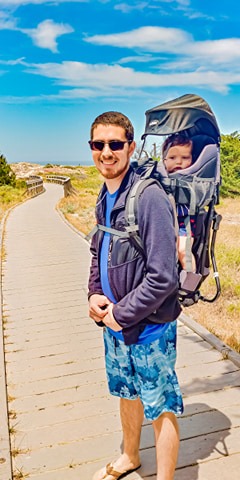 LUVDBABY PREMIUM BABY BACKPACK CARRIER FOR HIKING WITH KIDS
June 11, 2020
Hello Adventurer,
Have you ever gone to hike with your baby or toddler using a stroller in the woods? If you have, trust us, you are not the only one who made this mistake. Even though our stroller was awesome to run with, it was not appropriate to hike with. That made our baby uncomfortable, it was hard for us to push it through all the unpaved paths as well as pushed us back in time not allowing us to complete our hiking. That was indeed a challenge. When we found out about the Luvdbaby Premium Baby Backpack Carrier for Hiking with Kids, we were very excited to try it.
We must admit that even though we read amazing reviews about the carrier, we were a little bit concern about our backs since we have a big baby boy. However, our expectations were exceeded. Not only our baby was well protected, but also our backs. From hiking on mountains, to walking on soft sand beaches, the baby backpack was excellent. It has a great support for our backs since it is height adjustable which evenly distributes the weight making it comfortable for us to carry our baby on safely.
However, that does not mean that we did not get tired and take turns in carrying our baby in order to accomplish our goal. We indeed took turns since we were carrying not only our baby weight, but also everything we needed for the hike such as water bottles, our food, baby food, diapers, and our personal items. Believe or not everything fits in the Luvdbaby Premium Baby Backpack Carrier for Hiking with Kids. It has lots of pockets including an insulated pocket for food. The baby backpack surprised us with a very nice diaper change pad that is large and very comfortable to our baby to be changed whenever he needs to on the way.
As parents, we want to make sure that our kids are safe in every spectrum including how long they are exposed to the sun, rain, and anything that can fall on them during our adventures outdoors. Also, at that point, the Luvdbaby Premium Baby Backpack Carrier for Hiking with Kids did not disappoint us. The baby backpack also has a detachable stowable sun visor that protects our baby from outdoor elements such as sunlight, and any other things that can fall on him, and it comes with a rain cover to shield our child.
Another great advantage of that baby carrier is its self-support aluminum stand. That was really a key for us to buy it because we wanted a safe place for our baby to rest while we also rested. When we sit down on our outdoors chairs or even on the floor, our baby can also be in his "padded cocoon with safety straps and stirrups" right by our side. That is a great relief for any parent who needs to rest knowing that your child will not go anywhere, and it also protects the child against any crawling bugs from the floor.
As you can tell, we are very happy with our Luvdbaby Premium Baby Backpack Carrier for Hiking with Kids. That is why we brought it to our blog posts to help you to have a second, or a third opinion about the carrier if you are a parent who loves life outdoors as we do. We hope it helped you, and please feel free to ask us any question about the baby backpack. If you want to see pictures and videos of us carrying our child on the baby carrier please visit us on our Instagram @gameirosspace. Also, we want you to know that the link for you to acquire your own baby backpack is in our store. Please feel free to check out our products and recommendation there. See you in the next blog post!
Sincerely,
David and Mayara Gameiro
You May Also Like
May 25, 2020
May 28, 2020
June 16, 2020